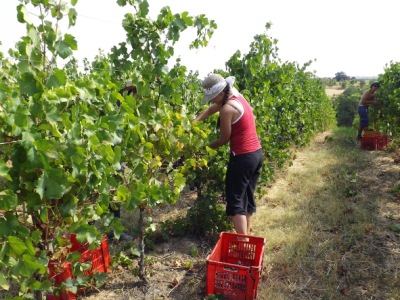 The 2012 harvest is coming to an end and the first estimates say that this year's crop will be a little lower than last year. Italian Wine Magazine Corriere Vinicolo (10/12) and Ismea Unione Italiana Vini predict that the harvest is about 8% down from 2011 with important differences along the Italian boot. Since 2011 was already low this makes the vintage particularly small.
Amarone producer Luigi Righetti says this year's yields are a little lower than average, but the quality of the grapes, especially Corvina, is excellent. The hot weather means that harvest started first week of September which is a bit early. Grapes were healthy and have already been laid down for the "appassimento", slow drying process that is typical for Amarone and Recioto wines.
Italian wine site Wine News has interviewed producers in each Italian region and finds that Lombardia with Franciacorta (traditional method sparkling) and Tuscany's Maremma have been particularly affected by the hot weather with about 20% less harvested grapes. In central Italian regions such as Umbria, the heat in the beginning of the summer was followed by the right amount of rain before harvest. So, even though the crop is smaller than usual, the overall quality is excellent.
Another Italian wine Magazine Bibenda confirms the good quality of this year's harvest. The heat was not as extreme as 2003, and the quantity seems to be only a little lower than 2011.
Read more on www.corrierevinicolo.it, Bibenda's website and on Wine News.
10/12