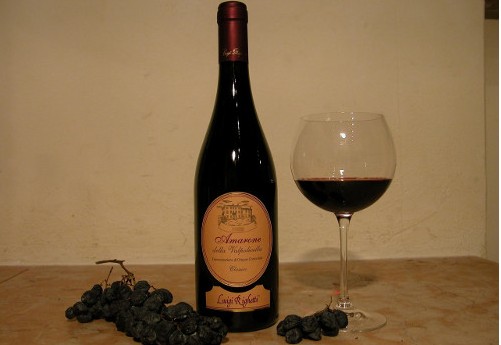 Veneto (with emphasis on the first syllable) is located in the northeastern corner of Italy, and with its many attractions such as Lake Garda, Verona and Venice, it is a region that draws the attention of many tourists.
You can choose this region because of the wonderful nature and cultural attractions, among those the arena in Verona, which is now used for opera performances during the summer season, that dates back to the Roman period.
The same thing can be said of Veneto's most traditional red wine. Recioto is made from grapes that are placed on straw mats to dry after the harvest in order to concentrate the sugar content of grapes.
This technique is known as the appassimento, while the wines are called passito wines, and this has reportedly been used for 2000 years by the Romans, and although other Italian regions also make passito wines, it is in the Veneto area this tradition has been kept alive throughout the ages.
Recioto, with its sweetness, is probably the wine that most resembles what the Romans drank.
However and the most famous passito wine from Veneto today, the relatively dry Amarone, appeared only in the first half of the eighteenth century.
Both wines are made in Valpolicella, an area just north of Verona, and the grape varieties used are the indigenous grapes Corvina, which is the main grape for the Valpolicella wines, Rondinella and Molinara (the latter is on its way out).
Among the Venetian white wines Soave stands out either in its passito version, Recioto di Soave, or as a 'regular' dry white wine; both types are made from the grape Garganega.
Soave is the typical wine to find just east of Verona, but when you come to Venice and its surroundings, a different type of wine is most often poured into the glasses: Prosecco. Prosecco is a semi-dry, sparkling wine, not too strong in alcohol, with an affordable price, which makes it very popular in bars at any time of the day.
In addition, Veneto is rich in DOCs made from wines of all colours from both indigenous and international grape varieties, but it is also the place where many wines from southern Italy are bottled or put in Bag-in-Boxes.
Regional capital:
Venezia
Population:
4.937.854
Area (km2):
18.398,85
Wine production:
8.351..000 hl
Important DOCs/DOCGs:
Soave Superiore DOCG; Bardolino Superiore DOCG; Conegliano-Valdobbiadene DOCG; (Amarone della) Valpolicella DOC; Custoza DOC.
Most important grape varieties:
Corvina, Corvinone, Rondinella,Garganega, Prosecco.