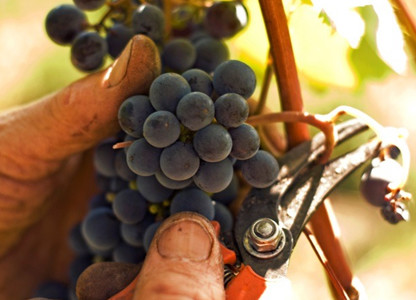 While the last grapes are still being picked, the OIV (International Organization of Vine and Wine) has published its 2016 harvest prognosis. OIV early estimates predict a 5% decrease of world wine production compared to 2015. In total wine production will be around 260 mhl. (million hectolitres – musts and juice excluded), making the 2016 harvest one of the smallest vintages in 20 years.
Acc. to OIV, Italy will remain the world's largest producer with 49 mhl., which is 2% less than last year. By comparison, the second largest wine producer, France, will register a 12% decrease with 42 mhl. And Spain should have a 1% increase with 38 mhl., thereby remaining the third largest producer.   
Looking at the largest Italian regions, the UIV (Unione Italiana Vini) reports a substantial production decline around 15% in Sicily and a (smaller) increase in Veneto, Puglia and Emilia Romagna (see graph).  
Veneto remains Italy's largest wine region. Valpolicella producer Gianni Righetti says he is generally happy with the harvest, but the quantity of Amarone and Valpolicella will nevertheless remain stable due to the new limits set by the Consorzio (producer body). In an effort to retain the high quality, the Valpolicella Consorzio has changed the percentage of grapes allowed to be set aside for "Appassimento" (drying process to produce DOCG Amarone della Valpolicella and Recioto della Valpolicella). The allowed percentage will be reduced to only 40%. Giuseppe Pan, commissioner of agriculture in Veneto explains: "Setting the limit to 40 % will allow us the long term profitability of the two DOCGs, resulting from more stable supply" (UIV).  
Similarly to the rest of central Italy, the region of Abruzzo had a great start of the season. However, it was hit by rain during the harvest months of September and October. Riccardo Brighigna from main social cooperative, Cantina Tollo explains that the growing season was slightly cooler than 2015 allowing for a slower maturation. When the rain hit in autumn, the late ripening Montepulciano variety was not mature and much work had to be done in the vineyard to avoid rot. The producers who waited for the sun harvested good quantities of fully ripe Montepulciano grapes with concentration and freshness from the long growing season. 
In another central region of Marche, Davide Orru from the Monteschiavo winery in Jesi reported a much more difficult year than 2015. With more rain and humidity requiring for much work in the vineyard. Monteschiavo just started the 3 year conversion period to become Certified Organic. Not being able therefore to use any pesticides, they had to work hard in the vineyard throughout the growing season to prevent any problems. 
In the overview below Italian wine production by region (must incl.) is outlined acc. to ISMEA-UIV published 4 Sett. 2016 
| | | | |
| --- | --- | --- | --- |
|   | 2015 mhl | 2016 estimates mhl | Var. % 16/15 |
| Piemonte | 2.467 | 2.580 | 5% |
| Valle d'Aosta | 23 | 27 | 17% |
| Lombardia | 1.372 | 1.188 | -13% |
| Trentino Alto Adige | 1.230 | 1.114 | -9% |
| Veneto | 9.733 | 9.966 | 2% |
| Friuli Venezia Giulia | 1.872 | 1.807 | -4% |
| Liguria | 76 | 76 | 0% |
| Emilia Romagna | 7.382 | 7.722 | 5% |
| Toscana | 2.825 | 2.612 | -8% |
| Umbria | 765 | 703 | -8% |
| Marche | 959 | 983 | 3% |
| Lazio | 1.676 | 1.717 | 2% |
| Abruzzo | 2.666 | 2.717 | 2% |
| Molise | 273 | 275 | 1% |
| Campania | 1.559 | 1.239 | -20% |
| Puglia | 7.546 | 7.732 | 2% |
| Basilicata | 149 | 160 | 7% |
| Calabria | 342 | 352 | 3% |
| Sicilia | 5.579 | 4.715 | -15% |
| Sardegna | 793 | 793 | 0% |
| Italia | 49.284 | 48.477 | -2% |
Read more (in Italian) Gambero Rosso and Unione Italiana Vini 
and International Organisation of Vine and Wine 
11/16