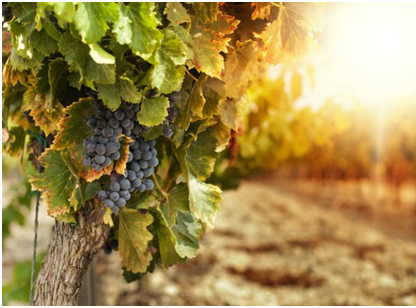 The OIV's (International Organization of Vine and Wine) recently announced that the world production of 2017 has been the smallest registered since the late '50s, early-'60s, confirming its forecast regarding the 2017 harvest production.
Due to the critical weather conditions experienced this year, 2017 harvest has seen a 8.2% drop compared with 2016. However, according to the UIV (Unione Italiana Vini), Italy confirms its position as the world's largest producer with 40 million hl, followed by Spain with 38.4 million hl, and France with 37.2 million hl.
As the UIV president Ernesto Abbona stated, the data collected illustrates a strong quantitative variability not only between Italian regions but also between different micro areas within the same territory and even between vineyards. As a result, the UIV registered variable quantities productions throughout Italy. (see graph below)
For example, Falesco in Lazio says that although there has been a 50% drop, they are very satisfied with the high quality and concentration. In north of Italy, major losses were recorded in Lombardia and Piemonte, with a drop of 27,5% in both regions, and a 32,5% drop in Valle d'Aosta. In Puglia, Organic Winery Felline also experienced a 50% drop of Primitivo di Manduria due to the months of drought, but states the quality is very high.  Lastly in the south, Sardegna and Sicilia suffered a severe loss of 35%
Prosecco Superiore Asolo DOCG producer Montelvini says that despite the smaller then average 2017 vintage situation in Italy (- 20% in Prosecco), the price of grapes have risen above 30% due to the worldwide success of Prosecco. According to bulk wine merchant Ciatti, this expected harvest shortfall, combined with the tightening supply-demand situation globally, resulted in a very active market in Italy. While production in many regions is facing extreme challenges, Ciatti notes that global wine consumption is increasing.
In addition, UIV states that the Italian exports have reached historical values, showing a tendency growth of more than 6% in volume and value. By maintaining this growth rate, Italy should reach the threshold of 6 billion euro value and a volume of more than 21 million hectoliters by the end of the year"(ANSA).
| | | | |
| --- | --- | --- | --- |
|   | 2016 mhl | 2017 mhl | Var. % 17/16 |
| Piemonte | 2.549.079 | 1.849.357 | -27,5% |
| Valle d'Aosta | 20.700 | 13.973 | -32,5% |
| Lombardia | 1.473.021 | 1.067.940 | -27,5% |
| Trentino Alto Adige | 1.213.028 | 1.062.006 | -12,5% |
| Veneto | 10.144.754 | 8.374.494 | -17,5% |
| Friuli Venezia Giulia | 1.856.412 | 1.643.482 | -11,5% |
| Liguria | 69.402 | 52.052 | -25% |
| Emilia Romagna | 7.856.999 | 5.892.749 | -25% |
| Toscana | 3.025.004 | 2.041.905 | -32,5% |
| Umbria | 741.000 | 481.650 | -35% |
| Marche | 956.004 | 693.103 | 27,5% |
| Lazio | 1.543.406 | 1.041.799 | -32,5% |
| Abruzzo | 3.948.370 | 2.763.859 | -30% |
| Molise | 249.540 | 187.155 | -25% |
| Campania | 1.285.597 | 1.125.412 | -12,5% |
| Puglia | 9.635.925 | 6.745.244 | -30% |
| Basilicata | 86.189 | 58.609 | -32,0% |
| Calabria | 638.211 | 478.658 | -25% |
| Sicilia | 6.041.976 | 3.927.284 | -35,0% |
| Sardegna | 803.730 | 522.425 | -35,0% |
| Italia | 54.140.403 | 40.023.154 | -26.1% |
*To read more (in Italian) click on
Corriere Vinicolo pp.1-3, 25 September 2017

Unione Italiana Vini, 7 September 2017

Redazione Ansa, 7 September 2017

Internation Organization of Vine and Wine, 2017

11/2017