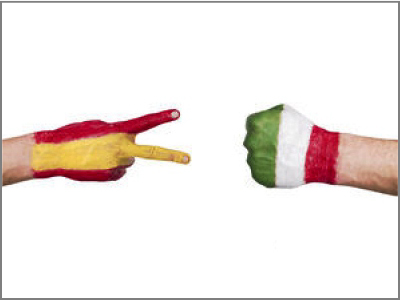 According to Amsterdam World Bulk Wine Exhibition statistics, 38% of all wine export is done as bulk (but only 10% in terms of value). "Vino in Cifre 2017", released by Corriere Vinicolo, reports that Italy has a growing bulk wine category that now accounts for 26.3% of wine exports with 383 million liters exported around the world in 2016. Compared to 2015, exports have increased by 5.3%.
In comparison, bottled wine accounted for 58.5 %; however, it dropped by 4.6% compared to 2015.
In terms of bulk wine exports, Italy is the second largest producer, preceded by Spain. The two countries have market shares of 18% and 12% respectively.
For this reason, Italy (the world largest wine producer) is extremely sensitive to market trends. Data show that Italian bulk wine sales have been quite unstable during the last decade. However, a distinction needs to be made between red and white wine. While exports for the former have been quite stable, always in the range between 30 and 70 million liters with few picks in 2011, the exports for the latter have seen a drop from 100 to 60 million liters.
Corriere Vinicolo report shows that in recent years, the Italian bulk wine market has changed considerably, for example in terms of final destination markets. Italian bulk wine is both moving to the south and the north, to the traditional European markets, but also to Asian markets, such as China. However, the top 3 countries for Italian bulk wine exports remains the Northern Europe countries, such Germany, UK, Sweden, with Norway and Denmark among the top 10.
For more statistics (in Italian) here and here (in English)
02/2017