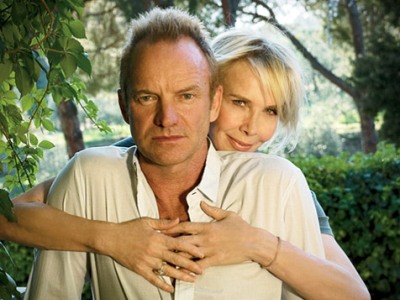 Wine is fashionable! And an increasing number of celebrities are producing their own wine: Madonna, Lady Gaga, Antonio Banderas, Gerard Depardieu, just to mention a few. In a recent interview with Italian Wine Magazine Bibenda, Rock Star Sting reveals his plans with his Chianti winery Pelagio.
Pelagio is situated near Greve in Chianti and includes a stunning 350 ha of which 24 ha are planted with, mainly Sangiovese, vines. Production is about 40 000 bt and Sting produces 3 different wines all with artistic labels and names such as "Sister Moon" after one of his songs.
In the interview, Sting mentions his love for Italy and Chianti in particular: Sting, his wife Trudie Styler and their six kids spend much of their time in Tuscany where Sting's daughter Coco was born. Sting and Trudy had the production converted to biodynamic in 2000 and Sting also admits often playing songs in the wine cellar convinced that the music has a positive effect on the wine!
09/12