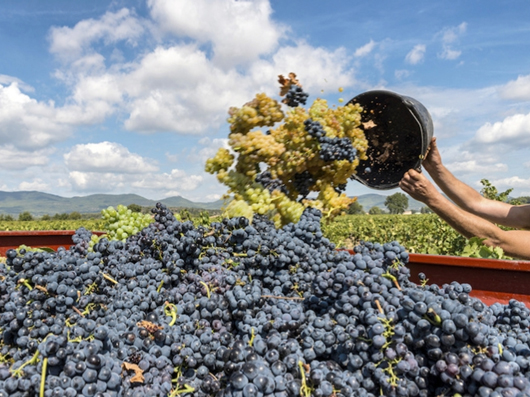 At least 5% increase compared to 47.5 million hectolitres produced in Italy from the last 2015 harvest – this is the prognosis by Coldiretti, Europe's largest agricultural professional organization.
However, expect high variability across regions: it ranges from a forecasted growth of 15% in Puglia (benefiting from a slightly cooler season compared to last year) to a 10% decline in Lombardy. Acc. to Coldiretti , temperatures below average and spring frost during the first months of the growing season put a strain on vine growers, particularly in northern regions, to secure healthy fruit: "Much will depend on the months of August and September, but the (higher) temperature range recently promises a year of good quality, after a mild winter and an early bud break", notes Coldiretti.
Andrea Faccio, president of Federazione Nazionale Vitivinicola di Confagricoltura, agrees with the positive prognosis: "It will be a vintage of excellent grape quality, which is the basis for great wines".
Axel Heinz, director and winemaker at Ornellaia, Bolgheri says: "Looking at things at this moment, it is quite possible that 2016 could be among the best vintages at Ornellaia, on a par with 2001, 2006, 2011, and 2012, which were all characterized by hot, dry summers and yet gave us wines of great concentration, structure, and richness."
In terms of turnover, more than half of the wine from this year will be sold in foreign markets: in the first quarter of 2016, Italian wine exports registered further 2% value increase compared to last year, acc. to the Italian Statistics office Istat data.
Read more (in Italian) La Stampa and Il Messaggero 
and The Drinks Business (in English) 
09/16